So after a long vacation, we are back. 2012 was an amazing year for Bollywood and 2013 seems to be doing even better with Chennai Express making 150 crores in 2 weeks and Jawani Deewani etc clocking almost 200 khokha. So we at Filmistani are going to take a deep breath, kill ourselves and become a ghost of 'Christmas Past'.
From Dil Bhi Tera, Hum Bhi Tere to YPD, Dharmendra acted in nearly two hundred and fifty films and never won a Filmfare Best Actor award despite being discovered in a Filmfare talent spotting competition. Dharmendra is perhaps one of the most talked about superstars in the industry and rightly so. The contribution he has made to Bollywood is no short of legendary. Probably in his later years a bit of senility crept in but it was all washed down while receiving the lifetime achievement award from Amitabh Bachhan. Dharam ji was all emotional while talking about Amit ji.
"ये आजकल मेरे घर नही आता की कहीं मैं दारू पीने के लिए ना बोल दूं"
One of the most emotional stars was all tears while receiving the lifetime achievement award at IIFA
So here we are going to go back in time and relive the top 7 movies that Filmistani thinks are the best work of Dharam Ji.
7) Jeevan Mrityu (1970)
Directed by Satyen Bose starring Dharam ji and Rakhi, this movie depicts the internal tension and deconstruction that the lead character Ashok Tandon (Dharam Ji) goes through. The character has so many layers and varied colors that it was almost impossible to imagine Dharmendra ji doing this. Someone like Sanjeev Kumar or Rajesh Khanna were considered more apt for that. This film is also important as it marks the debut of Rakhi. The story features Dharam ji as a bank manager who is falsely accused of theft in the bank and then arrested. And once he returns back from prison the world has changed around him, with his girlfriend married to someone else while mother dead. The movie features Dharmendra's internal battles and the trauma while being inside prison and once he is out.
The movie is also in people's hearts because of the simple yet beautiful music by Laxmikant Pyarelaal
6) Haqeeqat (1964)
Considered by many as the best war movie ever made in India, Haqeeqat by Chetan Anand was a realistic, cold and brutal peep into the immediate aftermath of the Indo-China war. The movie contains the ever-effective, ever-charming and ever-Balraj Sahni, who delivers an impeccable performance again but the role of Captain Bahadur Singh, played by Dharam paji, who falls in love with a Laddakhi girl (Priya Rajvansh) among the backdrop of Indo-China war. The movie features a raw Dharmendra, oozing with the realisation of himself; although some critics believe that he could not come close to Balraj sahni or Jayant (Amjad Khan's father); it was still a monumental performance by Dharmendra. The movie ends with Bahadur Singh and his lady love holding the post when Chinese Soldiers surround them, so that their comrades can escape to safety.
One of the most memorable scenes of the movie that has etched deep into the fans is what follows the brave deaths of Bahadur Singh. A song which has become synonymous with patriotism in India
5) Bandini (1963)
Celebrated as one of the classics from the black and white era despite not being spoken in the same breath as Pyaasa/Mother India/Do Beegha Zameen, Bandini comes across as a pure and unscathed Bimal Roy creation. Based upon a story by a jail superintendent, the film also encompasses Nutan in her best ever role by a margin. And despite being a female-centric film, it comes across as one of Dharmendra's finest too.
The movie is set in pre-independence era and Nutan falls in love with one of the revolutionaries - Bikash Ghosh, portrayed by ever charming Ashok Kumar. Dharmendra plays the role of Prison Doctor who meets Nutan in Jail and falls in love with her. The whole story is then a flashback of Nutan's past. Despite not having the central character, Dharmendra plays his part seemlessly, in an innate manner. The movie is also notable for brilliant music by S D Burman featuring songs such as 'mera gora and laile' and '
O Janewale Ho Sake To Laut Ke Aana'
4) Chupke Chupke (1975)
One of the first in a list of Hrishikesh Da, Dharam Paji and Sharmila Tagore trio classics, Chupke Chupke is a simplistic and fresh tale of a biology teacher who masquerades as a cab driver to fool the brother in law of his wife. Dharmendra was established a man who could play serious roles with utter ease and in most natural way as depicted throughout the 60s. What Chupke Chupke did was also make sure that he was the best comic man around. The movie is beautified by some superb castings by Hrishikesh da such as Om Prakash, Asrani, Keshto Mukherjee and a certain Amitabh Bachhan.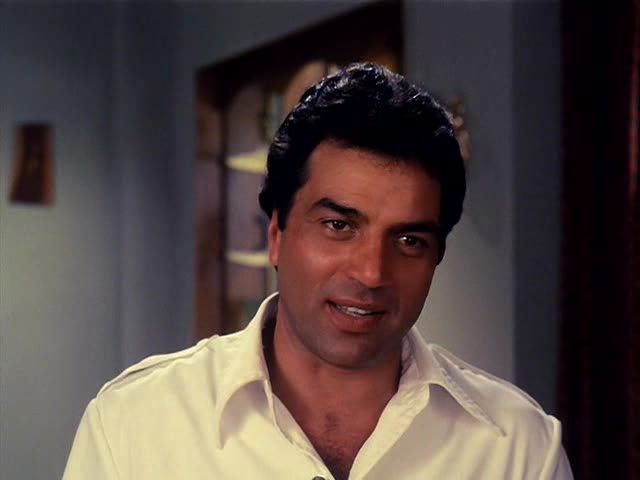 Playing Parimal Tripathi - Botanist - from Allahabad, married to Sharmila Tagore, Dharmendra and Sharmila start a comedy of errors as they play one prank after another on the 'jijaji' - Om Prakash.
There are many memorable moments in the movie but the one where Dharam ji and Om Prakash meet for the first time stands out - जब TO टू, DO डू तो GO गू क्यूँ नही
3) Anupama (1966)
The second one in the list with the combo of Dharmendra, Hrishikesh Mukherjee and Sharmila Ji, Anupama is one of those rare flicks which ventures beyond the portrayal of love between hero and heroine. It is also among Amitabh Bachhan's all time top 10, featuring along gone with the wind and Godfather. The movie entails a beautiful, yet sad to some extent, relationship between a husband and a wife; a father and a daughter, who he believes to be the cause of his wife's death'; undue lovers and a poet and his muse.
The movie opens with amazing sounds of 'Dheere Dheere Machal', sang by Lata ji and composed by Hemant Kumar
Dharmendra plays the role of a poet with supernatural command and respect. He is quixotic but not useless as most of the artists are shown in Hindi cinemas. He is pleasant, calm and just himself in every sense of the Hrishikesh da's portrayal of him in the 60s. Sharmila Tagore is as stunning as ever playing the central character of Anupama who goes through the pain of being alienated in her own home. But as the story progresses, she becomes the show stopper with the dignified glory.
The movie also features impressive performances from Deven Verma, Tarun Bose and Shashikala
2) Sholay (1975)
Well there is nothing I can write about Sholay that has never been written before. Every character in the movie went on to become cult and inspired generations to come in Bollywood. Dharmendra plays the role of an urban gangster. He is not much his usual self in the movie but still blends the comic side of the character with the central theme of action so effortlessly. This was his second blockbuster as a comic actor in the same year alongwith previously mentioned Chupke Chupke. Dharmendra was an already established actor in the industry but he also made sure than Amitabh Bachhan follows suit when he recommended his name to play Jai in place of Shatrughan Sinha who was Sippy's favorite.
1) Satyakam (1969)
And here is the final Dharam-Sharmila-Hrishikesh trio. Dharmendra's career literally peaked at Satyakam in 1969. Satyakam was Hrishikesh Mukherjee's best film and a landmark in the history of Hindi cinema. It could also be said that the character of Satyapriya (Truth -lover) , played by Dharmendra is the most affecting and powerful performance by a male actor in that decade. Satyapriya is Howard Roark of post independence India who views the pillars of development of nation based upon truth, integrity and honour. He marries Ranjana (Sharmila Tagore), daughter of a prostitute and raped by the prince of the estate. The film outlines the struggles through which Satyapriya is put through because of his ideals of honesty and how the system fails to break him but death breaks him in the end. The movie also consists of powerful performances from none other than Sanjeev Kumar and Ashok Kumar, who play best friend and grandfather of Satya. The movie ends with Ashok Kumar, who plays a Hindu saint following old dogmatic views, adopting the illegitimate son of Satya and Ranjana and calling him Satyakam, when the kid has the audacity to tell him that he is not legitimate.
This was also the time after which Hrishikesh Mukherjee left Dharmendra and went on to make a list of succesful moviess with Rajesh Khanna. According to some film analysts, Satyakam is the essential prelude to Zanzeer where a man takes on the whole system to prevent his ideals and beliefs.
So Despite never being compared to Dev Anand, Rajesh Khanna or Amitabh Bachhan, Dharmendra gave some of the best performances of his era, outlined the prime of a alpha male in the industry and at the same time gave us the laughs, the whistles and the tears.
He finally did receive a consolation prize, a Lifetime Achievement award in 1997, but Filmfair didn't give him one for an individual performance. He never got the credit for how good he was but some of his films will always remain carved on our memories. And anything to do with Dharmendra can not finish before watching him ride the bike with Amitabh in Denims